A Look Into Collective Development's Upcoming Animated Film
Collective Development Inc. is in the process of making a Feature Length Animated Film based on the 7th Oz book, the Patchwork Girl of Oz. The Film is entirely CGI & from what I have seen, the animation is wonderful & the Charecters are very faithful to John R. Neill's Illustrations. This is Collective Development's 1st Animated Film & looks to be darn good for the 1st.
Voices:
Tin Woodman-D.J. Perry
Scarecrow & Sawhorse of Oz
Below is a film cell of the Scarecrow & Sawhorse from the animated film. Good isn't it? NOTE: The film cell shown is copyrighted by Collective Development Inc./Thundertoad Animation, Not The Wizard of Oz Fan Site/Zach Allen. DO NOT RE-USE!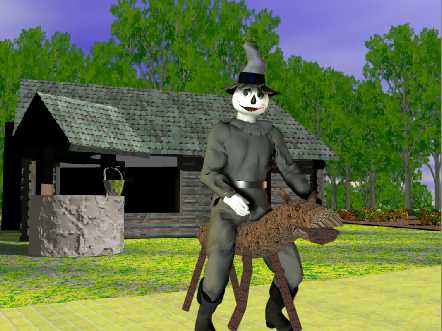 News
The Patchwork Girl of Oz film went in for editing recently. The film is being cut down to a watchable length. Also there is a debate going on whether to make the Woozy brown or blue.(5-27-03)
Thunder Toad Animation-This is the official site for the film, it contains pics & info.
This page will probably be coming down soon now that the film has its own site. It has been great working with CDI & Thunder Toad to help promote.
Copyright 2003 by Zach Allen/Patchwork Girl of Oz film Copyright 2003 Collective Development Inc./Film Cell Copyright 2003 Thundertoad Animations